NCI has helped provide transformative opportunities and career development to students in the Asia-Pacific (APAC) region through our commitment to the APAC HPC-AI Competition that NCI co-organised with the HPC-AI Advisory Council and the National Supercomputing Centre (NSCC) Singapore in 2022.
In recent years, NCI has had a big focus on delivering a bolstered and tailored training and capability development program, to equip our users to make the most of our world-class supercomputing, artificial intelligence (AI) and data infrastructure and services. While many of these events and activities have had a domestic focus, others have been specifically designed to help uplift high-performance computing (HPC) and data skills in our region. This includes activities like the 5th APAC HPC-AI Competition, which in 2022 made use of NCI's Gadi supercomputer and training capability.
Assistant Professor Worawan Diaz Carballo from Thammasat University in Thailand (Faculty of Science and Technology, Lampang Campus) made clear the positive impact of these types of training opportunities in a presentation at the recent Supercomputing Asia 2023 conference in Singapore. Assistant Professor Diaz Carballo spoke of her experience mentoring the 34 Thai undergraduate students who have participated in the APAC HPC-AI Competition since it began in 2018, and how this has helped some students secure high-paying jobs in the Thai tech sector.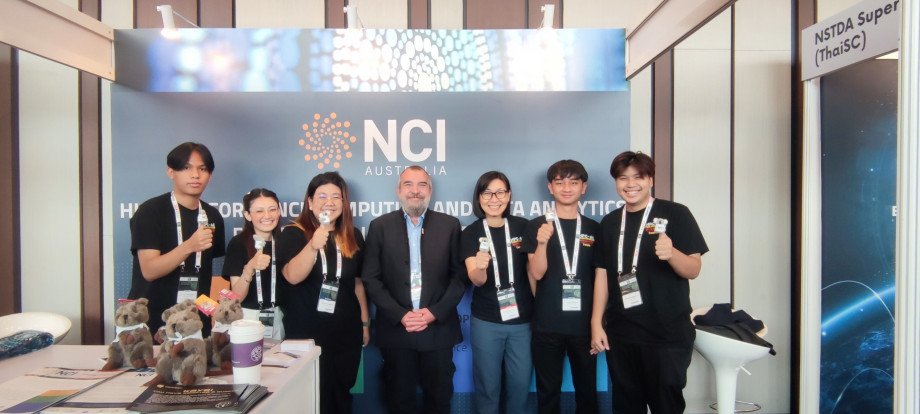 HPC and AI are among the most potent tools currently fuelling the advancement of science. During the COVID-19 pandemic, AI and deep learning enabled researchers to pursue innovative approaches to help with diagnosis, epidemiology modelling and treatment development, helping to deliver a timely and effective public health response. The APAC HPC-AI Competition aims to build HPC and Artificial Intelligence (AI) capacity in the Asia-Pacific region. In 2022, NCI supported the event by providing significant computing resources and access to the Gadi supercomputer, as well as assisting with extensive training of participants. 
"The Competition requires a high degree of commitment from students and can involve a steep learning curve," Assistant Professor Diaz Carballo says. "When surveyed however, students overwhelmingly said the hard work 'paid off', reporting that the Competition provided them with new skills and increased confidence that helped lay the pathway for future career success and in many cases, higher than average graduate salaries." Given the Thammasat University team was a diverse cohort, including individuals from low-socioeconomic backgrounds, Assistant Professor Diaz Carballo also emphasised how transformative their participation in the Competition had been for some students and their families.
The Thammasat University team's story demonstrates how with appropriate opportunities and supports, as well as a lot of commitment and resilience, students can, in a relatively short period, build impressive HPC skills from a very low base. "I was very proud that our 2020 team, starting with practically no supercomputing skills, managed to get all four tasks to run on the NSCC Aspire 1 supercomputer in the APAC HPC-AI Competition and narrowly missed out on receiving a Competition prize," Assistant Professor Diaz Carballo says.
After additional training provided by the HPC-AI Advisory Council, the 2020 team were motivated to continue building their capabilities, with one of the students, Apisith Wongsorn (Ohm), returning to the competition the following year to further develop and hone his skills. This persistence was ultimately rewarded, with the Thammasat University team placing third in the APAC HPC-AI Competition in 2021, a feat repeated in 2022. The team is now working to promote HPC and AI to local high school students in Lampang, helping to build awareness of these technologies and hopefully motivate the next generation of computational researchers.
Acknowledgements: Thank you to Assistant Professor Worawan Diaz Carballo for contributing to this article and assisting NCI to tell this story.